Mars Benefits
What can Mars do for you?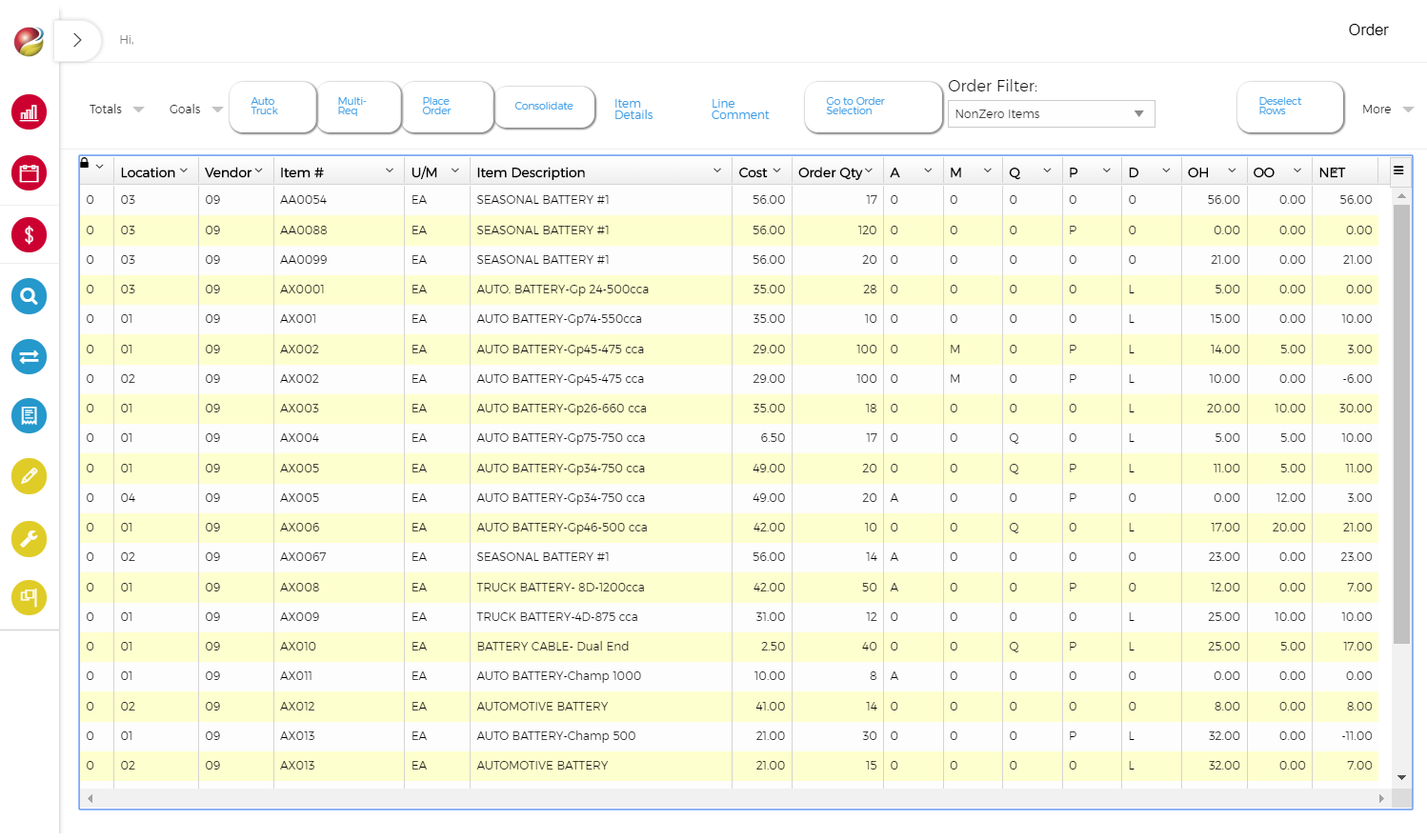 If you are a wholesaler or distributor, you already have an inventory system that provides data such as on-hand balances and sales history. It may even provide some reordering information. But you're still missing the critical information you need to survive in a competitive environment. You're missing the information you need to keep inventory down, yet maintain high fill rates.
That's where MARS Inventory Replenishment Planning and Forecasting comes in. MARS is a stand-alone solution that "bolts on" to your existing ERP system. It is a powerful tool that helps you purchase smarter and manage your inventory better. It analyzes your existing inventory and sales data and identifies which SKU's to buy and how much to order.
The net result--you achieve better fill rates while carrying less inventory.
Additional Mars Features
• Automatic Truck building - schedule shipments with full trucks based on items first need date.
• Authorized Stock List Maintenance Reports
• Review forecast calculations
• Theoretical Optimum Inventory
• Seasonality - Insertion of a previously established pattern
• Seasonality - Create a new pattern
• Intra-company transfers
• Seasonality - Radical
• Item/Vendor Comments
• Discount - Optimizing special one-time discounted buys
• Discount – Apply a discount to the entire order
• Price Increase – best quantity to order in anticipation of a price increase
• Economic Order Quantity (Does it make sense to buy more to save money?)
• View only Exception Items
• Forecast override (up to 12 months)
• Have at least a quantity of one on hand (even with no demand)
• Goal Seeking – Fill in order to meet weight, volume, quantity, or cost goals
• History substitution (use the history from one item to set the trend for another – also in bulk)
• Item Capacity
• Item Or SKU Maintenance - Automatic stepping forward
• Month to Date monitoring
• Palletizing (Cartons, Packs, Etc.)
• Price Breaks within a SKU
• Random Promotions
• Reports: Hot List, Profile Report, Slow Moving Items, plus dozens more
• Shelf Minimums
• Blanket Orders
• Substitutions
• Smooth one-time buy incidents
• In-company transfers
• Vendor Minimum Alerts
• Vendor Parameters - General
• Vendor Parameters - Minimum order size
• Vendor Parameters - Names, addresses, etc.
• Vendor Substitution (Multiple vendors for the same item)
What can Mars do for my business?
The bottom line results can be striking! Inventory shrinks as you move out slow stock and tailor future purchases to expected needs. Fill rates go up as the system identifies products to order in more heavily. And you spend far less time determining what to order, since most of the detailed work is automated